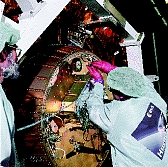 ESA technicians installing the CDROM containing Marilynn Flynn's sketches (and the signatures, music and artwork of others) to the Huygens lander. The lander is now sitting on the surface of Saturn's moon, Titan!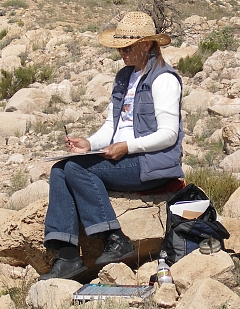 photo of Marilynn Flynn painting at Meteor Crater, Arizona - courtesy Michael Carroll
"I want my art to convey that these are real places where it is not an impossible dream to live. I feel it is the natural and necessary course of human evolution to leave Earth and settle on other planets. In my artwork I portray these ideas by painting planetary landscapes from the viewpoint of a human explorer. I hope my paintings show the strange beauty of other worlds while educating viewers and inspiring future space travelers." Marilynn Flynn
Marilynn Flynn's artwork has appeared in numerous books, magazines, TV programs, DVDs, science exhibits, art shows and websites. Her paintings have been commissioned by such prestigious organizations as the Earth & Space Foundation, The Planetary Society and NASA. Her artwork is in the permanent collections of several museums, including the Kennedy Space Center in Florida, as well as in private and corporate art collections. Invited to join the NASA Fine Arts Program, she was a member of the art team for the tragic Challenger 51-L mission. She is one of the original founding members and a Fellow of the International Association of Astronomical Artists.

She always wanted to be an astronaut and loves flying. She recently added aviation art to her portfolio, with an artistic tribute to aerial firefighters and the aircraft they fly. She also designs and manages several websites and webshops featuring her artwork.

In 1995 her painting of "Cosmic Cauldron" was selected as one of twenty paintings that were launched to the Mir space station, where it orbited Earth for several months as part of "Ars Ad Astra", the first group art exhibit in space. Two of her sketches are also on the surface of Saturn's moon Titan-engraved on a CD made by ESA which is attached to the Huygens lander.

Marilynn's space art paintings are a blend of science fact, art and intelligent imagination. They portray her desire to explore other planets and her belief that it is the natural course of human evolution to migrate from Earth and live on them. Her artwork is known for it's emphasis on the human element of space exploration.